Manchester United midfielder Bruno Fernandes finished his debut year at Old Trafford on a high note on Tuesday night. The Portuguese midfielder played his last Premier League match of 2020 against Wolverhampton Wanderers – the same team against which he made his Red Devils debut.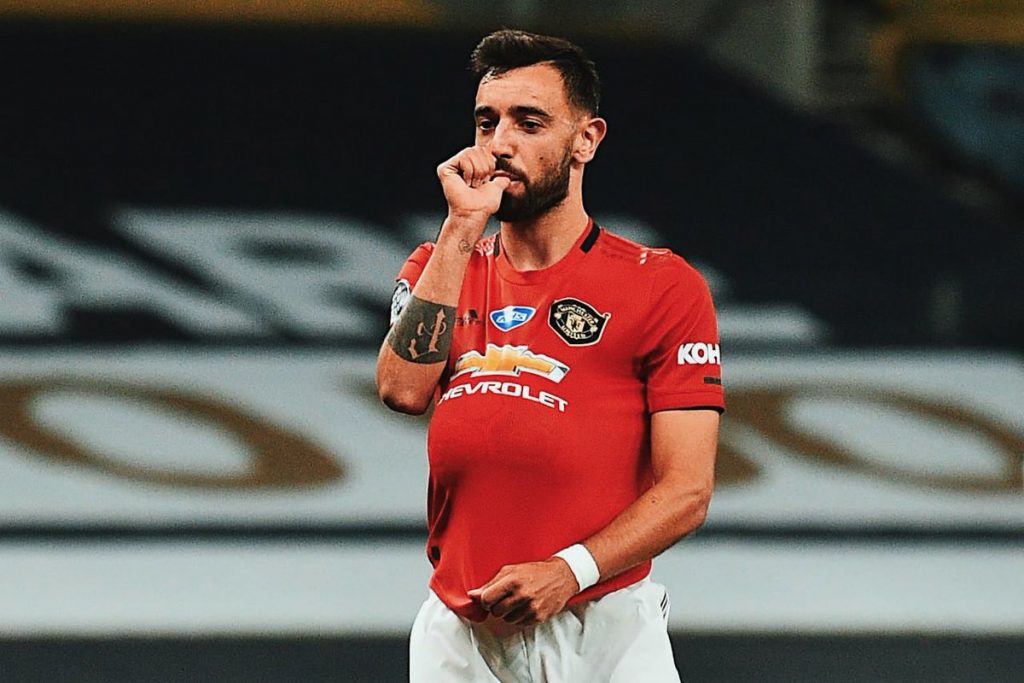 Even if Fernandes is having a bad game, he still turns up and provides the goods in the match from nowhere and out of nothing, and it was the same story for the midfield magician as he helped United seal a slender 1-0 victory over their Premier League rivals at Old Trafford.
The presence of Fernandes in the United team gives United fans the same feeling Juventus fans have whenever Ronaldo steps on the pitch – a feeling of confidence. And that explains just how good Fernandes is.
Before the last January transfer window, Manchester United were in serious need of some creativity in midfield as Paul Pogba was misfiring and not living up to expectations. The Red Devils then went into the transfer market in search of their missing ingredient which they found in Bruno. The midfielder then arrived from Portuguese side Sporting Lisbon and has since been a revelation to the Premier League.
Until currently, Manchester United were not regarded as Premier League title contenders but since Fernandes's arrival, the script has changed. He has singlehandedly improved the club and has taken them to just two points within League leaders Liverpool.
Now let's talk about stats. Since Fernandes made his debut against Wolves on the 1st of February, only Mohamed Salah (20) has bettered his 18 goals scored during that period. During that time also, he has recorded the most assists in the division, with 14 to his name. De Bruyne is second on the assist list with 12.
Both stats mean that Fernandes now has a hand in 32 goals in just 29 appearances in the Premier League alone. Opta also recently revealed that the midfielder has averaged over a goal involvement per match in the history of the Red Devils.
Along with a couple of Player Of The Month awards to his name, he also broke Frank Lampard's record of the midfielder with the most goal involvements (31) in a single calendar year.